The coming summer season has got me planning not just my tropical getaways, but also the clothes I must have for a sun-protective wardrobe. And by "sun-protective wardrobe," I mean clothes that provide optimal coverage, such as long-sleeved tops.
That isn't to say that I'm planning on looking crazy at a beach where nearly everyone else is baring skin. I'm not about to wear a hazmat suit or anything along that! Lucky for me—and every other fashionista seeking protection from harmful UV rays—the days of tacky and tasteless sun-protective fashion are long gone. The fashion market has evolved to produce stylish solutions for us, including swimwear.
One of my wardrobe must-haves for sun protection is a chic rash guard. This MIKOH Rash Guard does the sartorial job pretty well. It's weightless and water-wicking, which makes it breathable and comfy to wear.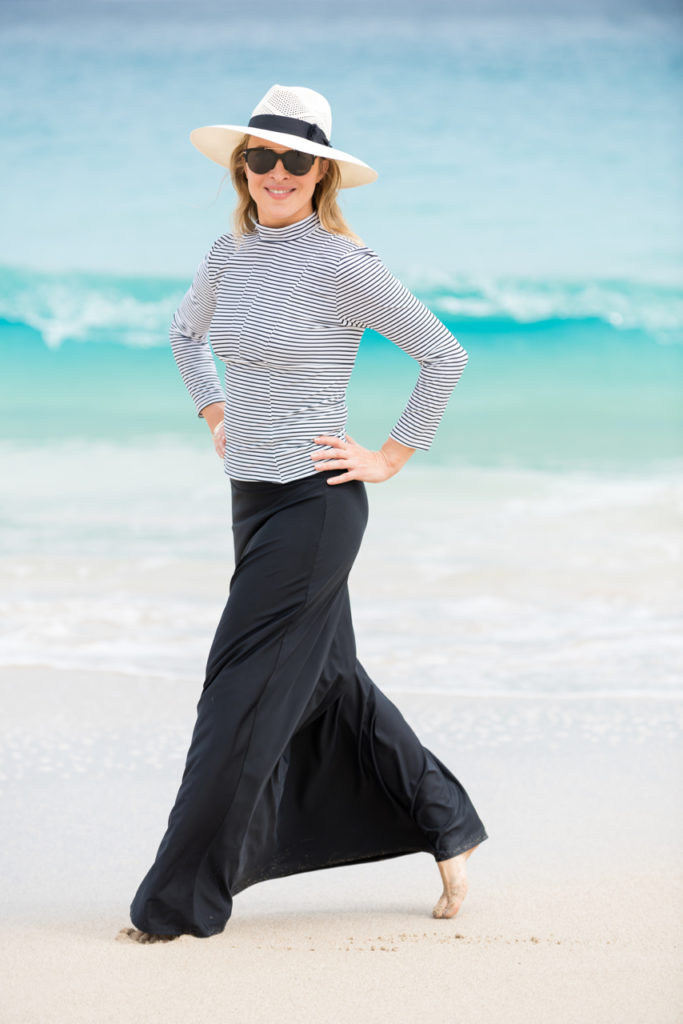 The MIKOH Rash Guard also has a stripe design that is flattering on all body types. Stripes are timeless and pairs well with nearly any kind of bikini bottoms. I wore mine with a coordinating black women's briefs for a simple, but put-together, look.
My wardrobe must-haves for sun protection are never complete without a nice hat and sunglasses. My Sun Sensi Studio hat is in a classic, wide-brim silhouette and can provide shade for the entire face and neck. Meanwhile, my Tom Ford sunnies protected my eyes from UV ray reflections. That mysterious, cool vibe is just a bonus!
Finally, for that something extra, I donned some minimalist metallic bangles.
This is a beach outfit formula  you can experiment with for a sun-protective, stylish look. What outfits are you planning to wear this summer?